Joseph's OS
Back
23 Mar, 2016 @ 00:29
When I was in grade 8 I got hooked onto computer programming. The first time I walked past someone in the libray using basic, I knew this was what I wanted to do. After constantly learning how to do new things, constantly making text based games I quickly found "my" limitation in BASIC. I wanted to control hardware, we were looking at PIC16F84's and this was going to be our platform of choice. We started playing with them, but quickly moved back to the PC, this time, with the intent to learn x86 assembly.
I had never been exposed to linux at that time, so wanted to make something I could use free; to replace Windows. Outcame "Joseph's OS". The assembly was first written on paper, during classes trying to work things out. Then I would type it all into windows debug, writing directly to a floppy disk. Those were the days.... untill I met TASM and being able to save source code and assemble!
Well recently I have been reunited with this operating system, which has sparked my love in Assembly once again. After being away from it for almost 10 years. I am going to make a comeback and hopefully pick up where this left off eventually (Hopefully not get stuck making a mouse driver again).
So below we have the OS code and screenshots of it working – with a shoutout to The Lanbox
Boot Screen – This was meant to allow you to choose a wallpaper and load a bitmap. Swear I got atleast somewhere with this.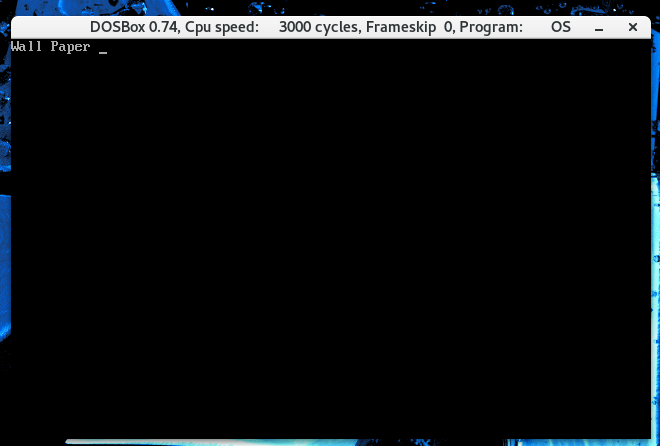 The shell – The first screen of the OS where you initiate all commands from.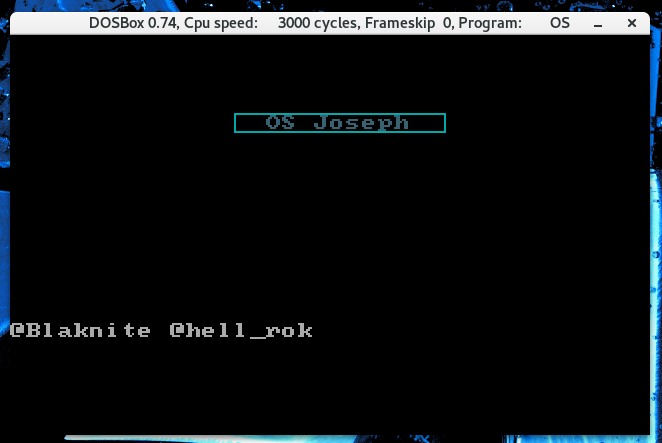 The paint program – The paint program I made, change colours with 1 - 4 and draw with a,s,d,w.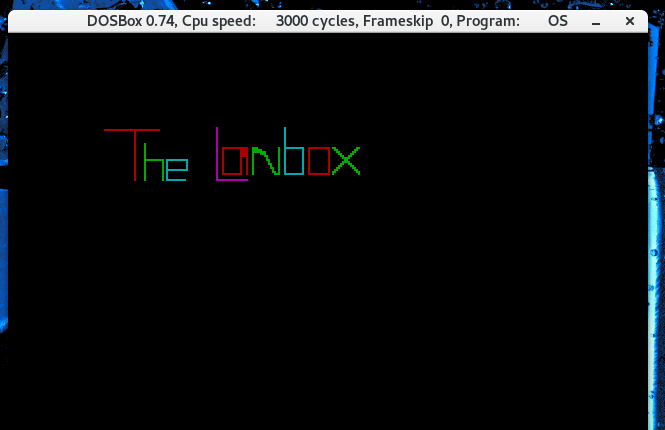 The Code
x86 16 Bit assembly – Use TASM to compile

ideal

model huge


segment code

assume CS:code,ES:code,DS:code,SS:code

org 100h



Entry1:

mov ah,00h

mov ax,03h

int 10h

mov ah,0eh

mov al,57h

mov bl,07h

int 10h

mov al,61h

mov bl,07h

int 10h

mov al,6ch

mov bl,07h

int 10h

mov al,6ch

mov bl,07h

int 10h

mov al,20h

mov bl,07h

int 10h

mov al,50h

mov bl,07h

int 10h

mov al,61h

mov bl,07h

int 10h

mov al,70h

mov bl,07h

int 10h

mov al,65h

mov bl,07h

int 10h

mov al,72h

mov bl,07h

int 10h

mov al,20h

mov bl,07h

int 10h

mov ah,00h

int 16h

cmp al,31h

jz fg

cmp al,32h

jz fd

cmp al,33h

jz fb

cmp al,34h

jz fk

cmp al,35h

jz fh



jmp Entry1



fh:

mov dl,45

jmp entry

fk:

mov dl,46

jmp entry

fb:

mov dl,55

jmp entry

fg:

mov dl,31h

jmp entry

fd:

mov dl,32h

jmp entry

fc:

mov dl,44h

jmp entry

entry:



mov ah,00h

mov ax,13h

int 10h



Border:

mov ah,0bh

mov bh,0h

mov bl,dl

int 10h



Fancy:

mov ah,0ch

mov al,03h

mov cx,70h

mov dx,27h

mov bh,00h

int 10h

lope:

inc cx

int 10h

cmp cx,0d9h

jnz lope

lote:

inc dx

int 10h

cmp dx,30h

jnz lote

loke:

dec cx

int 10h

cmp cx,70h

jnz loke

ling:

dec dx

int 10h

cmp dx,27h

jnz ling



print_Text:



mov ah,02h

mov dl,10h

mov dh,05h

int 10h

mov ah,0eh

mov al,4fh

mov bl,95h

int 10h

mov al,53h

mov bl,95h

int 10h

mov al,20h

mov bl,95h

int 10h

mov al,4ah

mov bl,95h

int 10h

mov al,6fh

mov bl,95h

int 10h

mov al,73h

mov bl,95h

int 10h

mov al,65h

mov bl,95h

int 10h

mov al,70h

mov bl,95h

int 10h

mov al,68h

mov bl,95h

int 10h

Text:

mov ah,02h

mov dl,00h

mov dh,12h

int 10h





iinput:

mov ah,00h

int 16h

mov dl,al

cmp al,08h

jz del

cmp al,0dh

jz enterr

mov ah,0eh

mov bl,07h

int 10h

cmp al,63h

jz cleari

cmp al,70h

jz paint1

jmp iinput





del:

mov ah,03h

mov bh,00h

int 10h

cmp dl,00h

jz backk

mov ah,0eh

int 10h

mov al,20h

int 10h

mov al,08h

int 10h

jmp iinput



cleari:

call clear



enterr:

mov ah,03h

mov bh,0h

int 10h

mov ah,02h

inc dh

mov dl,00h

int 10h

jmp iinput



backk:

cmp dh,12h

jz iinput

mov ah,02h

mov dl,27h

dec dh

int 10h

mov ah,0eh

mov al,20h

int 10h

mov ah,02h

mov dl,27h



int 10h

jmp iinput

gamm:

jmp entry







iiinput:

jmp iinput







paint2:

jmp paint1







qut:

jmp gamm







clear:

mov ah,00h

int 16h

mov ah,0eh

mov bl,07h

int 10h

cmp al,6ch

jnz iiinput

jmp entry



paint1:

mov ah,00h

mov al,13h

int 10h

painstart:

mov ah,0ch

mov cx,30h

mov dx,30h

mov bh,00h

mov al,04h

int 10h

mov bl,04h



move1:

mov ah,0ch

mov al,bl

mov bh,00h

int 10h

mov ah,00h

int 16h

mov al,al

cmp al,77h

jz up1

cmp al,71h

jz qut

cmp al,73h

jz down1

cmp al,61h

jz left1

cmp al,64h

jz right1

cmp al,31h

jz color1

cmp al,32h

jz color2

cmp al,33h

jz color3

cmp al,34h

jz color4

cmp al,35h

jz color5

jmp move1



color1:

mov bl,00h

jmp move1



color2:

mov bl,04h

jmp move1



color3:

mov bl,02h

jmp move1



color4:

mov bl,03h

jmp move1



color5:

mov bl,05h

jmp move1



up1:

mov ah,0ch

cmp dx,00h

jz move1

sub dx,1

mov al,04h

int 10h

jmp move1



down1:

cmp dx,70h

jz move1

inc dx

jmp move1



left1:

cmp cx,00h

jz move1

dec cx

jmp move1



right1:

cmp cx,0afh

jz move1

inc cx

jmp move1



ends code

end entry1